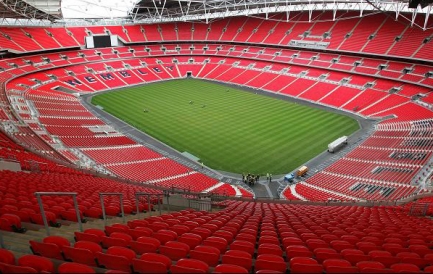 Wembley Stadium Tickets
Wembley Stadium tickets are extremely popular and in high demand.
Wembley National Stadium Ltd Wembley London HA9 0WS
The Empire Stadium in Wembley, popularly known as Wembley Stadium, was the most famous football ground in the world. Because England was the birthplace of the modern game and shared with Scotland the founding role in international football, Wembley, as it evolved into England's national stadium, gained worldwide regard as the citadel of football and as hallowed ground. After England began playing teams other than Scotland at Wembley in 1951, the world's national sides considered an invitation to play there a great honour. England played 223 matches at old Wembley. They played the other home countries there every other year as part of the British Championship, Scotland since the 1920's and Wales and Northern Ireland since the 1950's. For that reason, Scotland played the most matches against England at Wembley, 30, followed by Northern Ireland, 18, and Wales, 16. Outside the home countries, Brazil and Germany/West Germany led the way with nine matches each. England played 51 representative teams at Wembley. Two of those teams, the Rest of Europe and the Rest of the World, were not national selections, but representative sides consisting of players drawn from several nations. England thus played 49 national teams at Wembley, although that number is smaller by two if predecessor and successor nations are lumped together (united Germany and West Germany, on the one hand, and Czechoslovakia and the Czech Republic, on the other).
Local buses: 18 83 92 182 224
Wembley Park station, is on both the Jubilee and Metropolitan underground lines. On exiting the station, follow the pedestrian route under Empire Way and up Olympic Way to the front of the Stadium. Allow for 10 minutes' walk. Wembley Stadium station is on the Chiltern train line. The Chiltern line travels from the Midlands, Oxfordshire and Buckinghamshire. London trains on this line depart from Marylebone station. The station is on the south side of the Stadium. If arriving by train from London Marylebone station cross the tracks using the White Horse bridge. If arriving from the north, take the ramp from the platform. Wembley Central station, is on the Bakerloo underground line and the London overground train lines. On exiting the station, turn right and walk in an easterly direction along the High Road, past McDonalds and Burger King, to the Wembley Triangle junction and clock tower island. Turn left into Wembley Hill Road, cross the road and follow the pedestrian route across the White Horse bridge. Allow 15 minutes' walk.
Wembley Stadium Match Tickets
Event
Date
Location
England vs Estonia
UEFA EURO 2016 - Qualification

Fri, Oct 9 2015 8:45 PM
Wembley Stadium, London, United Kingdom

Find Tickets of England vs Estonia tickets at Wembley Stadium in London on 09/10/2015

Tottenham Hotspur vs CSKA Moskva
Champions League


Wed, Dec 7 2016 7:45 PM
Wembley Stadium, London, United Kingdom

Find Tickets of Tottenham Hotspur vs CSKA Moskva tickets at Wembley Stadium in London on 07/12/2016

Tottenham Hostspur vs West Bromwich
Premier League


Sat, Nov 25 2017 3:00 PM
Wembley Stadium, London, United Kingdom

Find Tickets of Tottenham Hostspur vs West Bromwich tickets at Wembley Stadium in London on 25/11/2017

Tottenham Hostspur vs Everton
Premier League


Sat, Jan 13 2018 5:30 PM
Wembley Stadium, London, United Kingdom

Find Tickets of Tottenham Hostspur vs Everton tickets at Wembley Stadium in London on 13/01/2018

England vs Czech Republic
UEFA EURO 2020 - Qualification

Fri, Mar 22 2019 7:45 PM
Wembley Stadium, London, United Kingdom

Find Tickets of England vs Czech Republic tickets at Wembley Stadium in London on 22/03/2019

Manchester City vs Watford
FA Cup


Sat, May 18 2019 3:00 PM
Wembley Stadium, London, United Kingdom

Find Tickets of Manchester City vs Watford tickets at Wembley Stadium in London on 18/05/2019

England vs Bulgaria
UEFA EURO 2020 - Qualification

Sat, Sep 7 2019 6:00 PM
Wembley Stadium, London, United Kingdom

Find Tickets of England vs Bulgaria tickets at Wembley Stadium in London on 07/09/2019

England vs Kosovo
UEFA EURO 2020 - Qualification

Tue, Sep 10 2019 7:45 PM
Wembley Stadium, London, United Kingdom

Find Tickets of England vs Kosovo tickets at Wembley Stadium in London on 10/09/2019

England vs Montenegro
UEFA EURO 2020 - Qualification

Thu, Nov 14 2019 7:45 PM
Wembley Stadium, London, United Kingdom

Find Tickets of England vs Montenegro tickets at Wembley Stadium in London on 14/11/2019