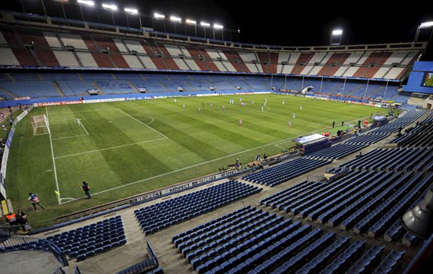 Vicente Calderon Tickets
Vicente Calderon tickets are extremely popular and in high demand.
P
Estadio Vicente Calderón is the home stadium of Club Atlético de Madrid. It currently has a capacity of 54,960 seats. In the first half of the 20th century Atlético played its home matches at the Estadio Metropolitano, but by the late 1950s that stadium had proved too small and outdated for Atlético's increasing support, and plans were made for the construction of a new stadium. Land was bought on the banks of the river Manzaneras, and on the 2nd of October 1966 the new stadium opened under the supervision of then president Vicente Calderón. The first match played at the stadium was a league match between Atlético and Valencia, which ended in a 1-1 draw. The stadium counted with only seats, unique for the time, and the first large stadium in Europe to have so. The stadium was initially called Estadio de Manzaneras, but its name was changed in 1971 in honour of the club's president. Back then the stadium could hold 62,000 fans, but due to several renovations and increased safety requirements this was later reduced to its current capacity.The stadium hosted three matches in the second group phase of the 1982 World Cup, among which the match between France and Northern Ireland (4-1). Atlético has recently started with the construction of a new stadium at the site of Estadio de la Peineta, in the east of the city. This stadium, with a planned capacity of 67,500 seats, is expected to open in 2015.
Line 17, 18, 23, 34, 35, 36, 50, 116, 118 & 119.
Line 5, station \'Pirámides\'.
Vicente Calderon Match Tickets